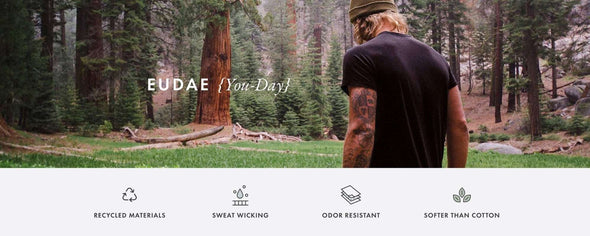 We spent two years developing Eudae and it will change everything for you. This proprietary fabric is quick-drying, odor-resistant, and softer than your favorite cotton tee. 
Our lighter, thinner, + super-breathable fabric is the go-anywhere, do-anything answer for the universe. Here, closed-loop processes reuse 99% of solvents and recycles water, plus all Eudae will never shrink or change shape.
Built into every shirt or pair of underwear, eucalyptus' natural anti-microbial properties will keep you fresh – from a bike ride to the office to a bar. And back. Eudae is so amazing that people have asked us to make bedsheets out of it... we don't do that yet, but you can always wear it to bed – we don't judge. 
*All orders are final sale and not eligible for returns and exchanges.*
Sorry, there are no products in this collection